03 Apr

Maine McDonald's All-Star Basketball Weekend Raises $40K for Charity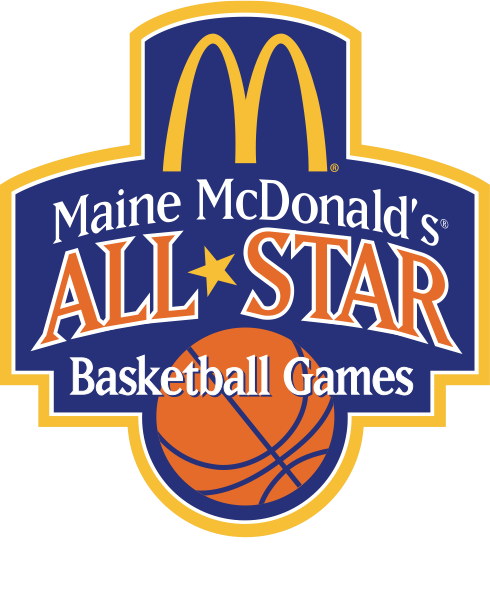 The 37th annual Maine McDonald's High School Senior All-Star Basketball Games raised $40,000 for Ronald McDonald House Charities (RMHC) of Maine, March 10-11 in Bangor.
It was the Maine McDonald's Owner/Operator Association's 29th consecutive year as lead sponsor of the event. The Maine Association of Basketball Coaches founded and organizes the event which recognizes Maine's best senior high school basketball players, coaches and scholar-athletes, and bestows the prestigious Mr. and Miss Maine Basketball awards.
At an All-Star Awards Banquet March 10, the Maine McDonald's Spirit of the Game Awards went to Chad Perry of Narraguagus High School and Rusty Wilkins of Mt. Ararat High School. The award honors two high school basketball team members who embody the spirit of the sport of basketball, exemplify sportsmanship, support and inspire their teammates and coaching staff, and have overcome obstacles or boundaries. Each winner received a plaque and a $500 Spirit Scholarship.
Isabelle DeTroy of Gray-New Gloucester High School and William Strauch of Dexter Regional High School were the recipients of the 2017 Maine All-State Academic
Scholarships. They each received a $2,000 scholarship for their college education provided by Maine McDonald's owner/operators and Ronald McDonald House Charities of Maine.
On March 11, two boys' and two girls' North/South All-Star games were played, the Maine State Foul Shooting Champions were decided, and the Maine Athletic Fundraising Three-point Shooting Competition and Dr Pepper Slam Dunk Competition were held at Newman Gymnasium at Husson University.
The Maine Association of Basketball Coaches presented awards to coaches for milestone career victories. And, Maine McDonald's owner/operators presented a check for $158,186 to RMHC of Maine Executive Director Robin Chibroski. The check amount represents the 2016 RMHC Maine donation box giving total and the 2016 penny donation total for each Happy Meal purchased at a Maine McDonald's.
The Maine McDonald's High School Senior All-Star Basketball Games are the second largest annual fundraising event for RMHC of Maine. The nonprofit operates Ronald McDonald Houses in Bangor and Portland which provide lodging and meals to families of children with life-threatening illnesses during their stay at a local hospital. Since its founding in 1998, RMHC of Maine has granted more than $3.1 million to more than 250 non-profit organizations that positively impact the health and well-being of children and families in Maine and eastern New Hampshire. Learn more at www.rmhcmaine.org.
These sponsors made the 37th annual Maine McDonald's High School Senior All-Star Basketball Games possible: Premiere Title Co-Sponsors: University of Southern Maine, Dr Pepper and Maine Athletic Fundraising. Major Sponsor: Coca Cola. Supporting Sponsors: Bangor Savings Bank and McCain Foods. Contributing Sponsors: Coastal TShirts of Auburn, Holiday Inn Bangor, Bob's Discount Furniture and Bronson Audio/Visual & Event Services. Media Partners: WLBZ-2, Bangor and WCSH-6, Portland.