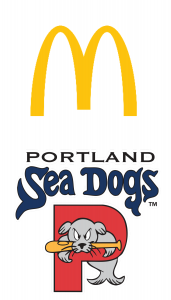 We are proud to be partnering once again with the McDonald's on St. John Street for our Fill the Lot with Love Fundraiser throughout April to September of 2017. The McDonald's on St. John Street has generously donated 20 parking spaces for Sea Dog's fans to park during every Sea Dog's home game for a $10 donation to RMHC of Maine.
Because of your support, we have the opportunity to raise $200 each game to help keep families close! Since 2004, we have raised over $60,000 through this fundraiser. Next time you plan to attend a Sea Dog's Game, please consider parking in the McDonald's parking lot at 332 St. John Street in Portland, across from Hadlock Field!
Click here to learn how you can help!
Click here to view the Sea Dog's 2017 Schedule!