21 Jul

Gorham Girl Scouts complete Silver Award by renovating playroom

October 2014,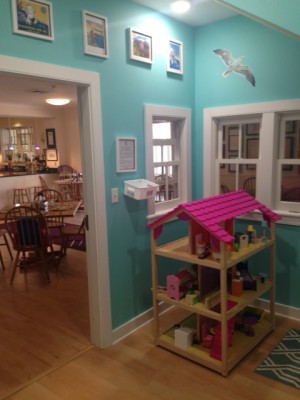 Three twelve-year-old Girl Scouts, Lindsey, Ava and Laura from Gorham spent over 150 hours renovating the Ronald McDonald House's playroom for Silver Award.  This Award is the highest award a GS Cadette can earn.  It allows girls to show that they are strong leaders in organizing projects that improve their communities. "These girls had such a vision for how they wanted to transform this playroom into a warmer, more welcoming place for children while they stay here at the House," said Alicia Milne, Development Manager.
With the help of their handy dads, the room was transformed into a beautiful new nautical-inspired playroom.  "I'm really proud of what we did. I feel like happy with the way it turned out. Better than I imagined" Lindsay Nygren shared.  The girls set up an Amazon Wish List of new toys.  There were over 50 toys on this wish list, every single toy was purchased and mailed to the House courtesy of our wonderful community of supporters.
Gorham Savings Bank, Hall-Dale High School through Jobs for Maine Graduates, and the Helen King Memorial provided funding for this playroom, making the girls' project plan possible. They also received support from companies such as Sea Bags, who generously donated their expertise to reupholster a "Reading Nook" seat cushion from a donated recycled sail, Target for helping purchase a portion of the new SmartTV, and Schnitzer Steel for donating metal for the interactive magnet wall.  "We are truly grateful to all from our community who participated in helping these fabulous girls accomplish this wonderful project," said Robin Chibroski, Executive Director.
The girls, their families, and the donors who made this project possible came to the House on Friday, October 10 for a Ribbon Cutting Ceremony showcasing the newly renovated playroom.
---
Thank You To All Our Supporters
Dr. Christine Ann Bennett
Peter Benson
Janet Boduch
Jonathan Bolduc
The Bolduc Family
Cadence, Issac & Jacques
Kirsten Coker
Cook's Hardware
Gorham Recreation Group, Teen Extreme
Gorham Savings Bank
Louise Griffin
Hall-Dale High School
Janice Hamilton
Devon Hargrove
Helen King Memorial Golf Tournament & CDJ King Winter Classic
Hillside Lumber
Jobs for Maine Graduates
Mary Lou Hutchins
Kim Lane
Kathryn Malin
Stacy Moore
Joan Murray
The Nygren Family
Peerless Painting
Lisa M. Pelletier
The Pitman Family
Patrick & Suzanne Reilly
Debra Roma
Sea Bags
Keith Siegel
Laura Stauffer
Target
Treehouse Toys