Spread the love with $1, $3, or $5!
During May, the Give A little Love campaign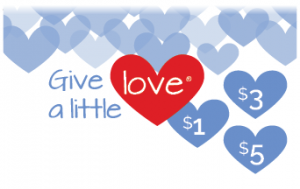 takes place in participating McDonald's restaurants across Maine and northern New Hampshire. Stop by your local McDonald's and purchase a heart for $1, $3, or $5 to recognize someone special while supporting RMHC Maine with 100% of the proceeds benefiting families when they need to be close to their seriously ill children.
How can you be a part of this important fundraiser? Visit your local McDonald's restaurants to change the lives of critically ill children and their families. You can dine in or drive-thru, and the smiling face behind the counter will ask if you wish to donate $1, $3 or $5 to RMHC Maine. You say, "Sure, why not?" and get that warm fuzzy feeling that happens when you do good and help others in need – one small act at a time.
Thank you! Every penny stays local to support RMHC Maine guest families.
Support RMHC Maine during minor league baseball season!
RMHC Maine proudly partners with McDonald's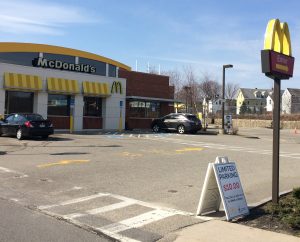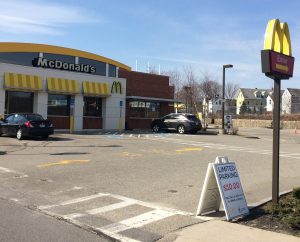 for our Fill the Lot with Love Fundraiser. From April to September, during the Sea Dogs baseball season, the St. John Street McDonald's generously donates 20 parking spots. For a $10 donation, fans can park safely just steps away from Hadlock Field.
With your support, we have the opportunity to raise $200 each game to help keep families close! Since 2004, we have raised over $71,000 through this fundraiser. Next time you plan to attend a Sea Dogs game, please consider parking in the McDonald's parking lot at 332 St. John Street in Portland!
Want to be a part of the pre-game excitement? We need 1-2 volunteers each game to help park cars. Contact Alicia for more information.
Join in the #DayofChange Celebration!
You know those pennies, dimes, nickels, and quarters in couch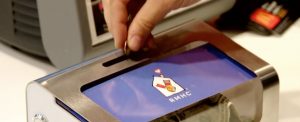 cushions and under the seats in the car? Put them to good use! Show your support of RMHC Maine by visiting your local McDonald's to donate your spare change.
October 15 marks the anniversary of the opening of the very first Ronald McDonald House, which opened in Philadelphia in 1974. To celebrate, the entire RMHC Global Organization rallies around our donation boxes at each McDonald's restaurant. It is because of our mission partner, McDonald's, that our organization was created, and to this day, they help us continue to keep families close while their child receives medical attention.
Join the celebration by visiting your local McDonald's on October 15 and donating your spare change. If you are unable to get to a McDonald's on Day of Change, you can always donate online or donate your change every time you visit McDonald's.
Celebrate the #DayofChange #forRMHC families at participating McDonald's. Your spare change can make a big difference.