02 Dec

Heart of Gold Recipients
Check out our Heart of Gold Recipients from our Masquerade Ball!
 Paul Thibodeau
When we asked Paul Thibodeau why he got involved with Ronald McDonald House Charities of Maine, he said it was really very simple.  In 1997, Paul took an early retirement from Johnson & Johnson.  When Paul was talking with his sister about his concern for filling in the time that he would now suddenly have, her reply was, "I know just the place for you"!  She had stayed at the Ronald McDonald House in Rochester, New York when her son had to deal with a health issue, while he was a student at Rochester Institute of Technology.  She was deeply grateful to be able to turn to this Ronald McDonald House for a place to stay during her son's illness.  Since coming to us in September 1997, Paul has not only covered his monthly four-hour Sunday shift, but numerous additional shifts as well as many overnights when the staff needed a night off.  In addition, he is a long-standing volunteer at our fundraising events.  He is an exceptional photographer. He has captured various special moments over the years and even donates his wonderful photographs to our auctions.With tremendous gratitude and profound appreciation for the many contributions he has made over these many years, we are honored to present Paul with this Heart of Gold.
Mary LaLumiere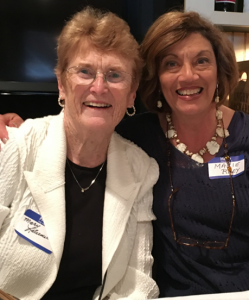 In 1995, Mary LaLumiere walked through the doors of Ronald McDonald House in Portland to volunteer her time monthly as a shift volunteer.  In addition, she never hesitated any time she was asked to fill in other vacant shifts.
In 1997, she brought her two granddaughters to the Portland House.  Mary ran a bed and breakfast, and is a creative pottery artist.  She got to know Nance Andersen, one of our original Portland House volunteers, as she had stayed at Mary's bed and breakfast for six months. Mary started donating pottery to the House and as she got more involved she felt it was run so professionally she wanted to get trained to cover a regular shift.  What has impressed her so much is families look at the Ronald McDonald House with such amazement.  The House offers emotional support, food, lodging and they so very much appreciate the volunteers.  It warms her heart.
Although we thoroughly understand that Mary's volunteer service is genuinely given, and not for any accolades or personal acknowledgement, we are honored to present her with the Heart of Gold Award with our most heartfelt thanks and appreciation.
Systems Engineering
Established in 1988, Systems Engineering is a highly regarded leader in its industry for delivering engineering excellence and superior customer service for which we have experienced first-hand.
As an ambassador and corporate partner of Ronald McDonald House Charities of Maine (RMHC Maine), Systems Engineering has partnered with our mission to keep families close to their critically ill children, beginning in 2010 with the donation of a much needed new washing machine and preparing home-cooked meals for families to enjoy after a long day at the hospital.  Since that time, the depth of charitable giving from Systems Engineering and its employees has remained unwavering growing tenfold each year in support of all aspects of our organization.
As a corporate partner, Systems Engineering supports RMHC Maine in our fundraising efforts each year with corporate sponsorships, in-kind 'wish-list' donations of products, and technology equipment and services needed to continue operating our home away from home for hundreds of grateful families and their children.
As an ambassador, Systems Engineering encourages its employees to participate in various activities to support RMHC Maine, including attending our fundraising events, organizing items to donate to our fundraising auctions, and collecting wish-list items.  In addition, they volunteer their time in preparing guest chefs meals, sitting on committees and serving on the Board of Directors.
Because of this most significant civic-minded support, we are pleased and honored to recognize Systems Engineering as a Heart of Gold recipient.