09 Jun

Becky Bolduc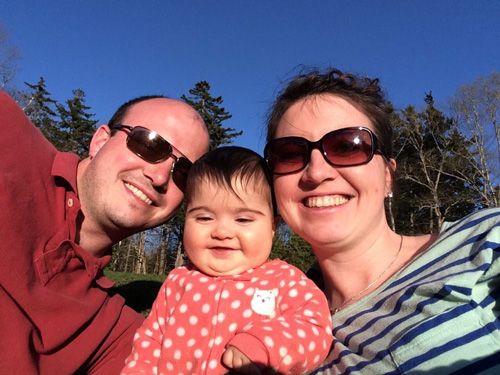 No one really plans to get sick and no one thinks they'll need to stay in a hospital for several days or even several weeks. Most times, it just ends up happening and suddenly your whole world is turned upside down. Your daily routine is no longer anything like it was before.
This was certainly the case for Becky Bolduc and her husband Jonathan when they arrived at Maine Medical Center following a very tense, 5-hour ride – by land and sea – from the family's home on Islesboro, Maine. A small island of roughly 600 year-round residents located just off the coast of Camden.
As it turned out, on that sunny day back in August 2013, the Bolduc's first child, Emelia, decided to enter this world about 10 weeks before she was supposed to. After arriving at Maine Med, Emilia was born weighing just 3 lbs. 4 oz.
Shortly after delivery, the doctors and nurses explained to the couple that baby Emilia would need to stay in the neonatal intensive care unit (NICU) until she was strong enough to be cared for at home. Likely 8-10 weeks. Following a few very tense hours of scrambling to inform friends and family about what was going on, the couple were then approached by hospital staff to let them know about the nearby facilities available at the Ronald McDonald House in Portland.
"I really didn't know anything about The House," recalls Becky. "But in a matter of just a few hours, the plans were set and my spot was reserved for when I was discharged from the hospital." Once there, Becky and her husband quickly found support, comfort, and friendship from other residents who were experiencing some of the same feelings of fear and uncertainty. "It was reassuring to see some of the same people each day. Usually, it was late at night when would be coming back from the hospital. I think it gave us all strength to see that other people were going through some of the same things we were."
Looking back now on the weeks that she spent at the Ronald McDonald House, Becky says she appreciates, even more, the freedom from having to worry and stress about everyday tasks such as cooking and cleaning or driving back and forth from the hospital.
"They really did take care of everything for us and it was wonderful to be able to dedicate 100% of our time and energy to our baby. At the same time, it was also great to be able to meet and spend some downtime with other moms at The House too. When you're at the hospital, there really isn't much of an opportunity to connect with other people. Everyone is mostly isolated with their child. It really helped me keep it together. Just being able to talk, laugh and cry with other people in the same situation made all the difference for me. I can't even imagine having to go through that whole experience without having that."
The convenient location of the House was also a benefit to Becky and her family. Often, she would walk back and forth from the hospital during lunch to run errands or to simply get some fresh air and enjoy the sunshine. "Not having to worry about having enough gas in the car, following directions, or where I was going to park made things really simple for me, and at the time – with so much craziness going on in our lives – simple was good. With so much going on in my head, I don't think I would have been a very attentive driver anyway."