09 Jun

Kassandra Whitehouse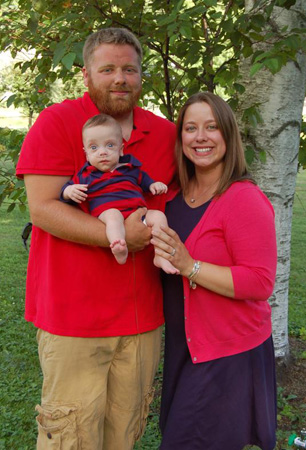 I had an easy pregnancy, no complications or symptoms, until New Year Day when I started having pain, didn't think too much about it until early the next morning the pain became severe and I was taken from our hospital in NH to Maine Medical Center. Nothing could have prepared us for the news we received when we arrived. I had HELLP syndrome and my liver was bleeding, to help me our baby boy needed to be delivered immediately at only 27 wks 6 days.
Everything happened so quickly we didn't even have time to react until 3 pm on January 2nd, 2014 when our beautiful 1 lb 6 oz baby boy Carter was born. We had so many doctors and specialists to talk to our heads began to spin, we were forced into autopilot, and thinking of anything besides the health of Carter was impossible. The one thing we didn't have to worry about was a place to stay while being away from home.
The Ronald McDonald House welcomed us with open arms. After spending all day and night by Carter's side we had a place to go only a minute from the hospital to try to rest up for the next day. We were always greeted with smiles and warm wishes from the amazing staff and countless generous volunteers. Also being around other families who actually understand what you are going through can be therapeutic in its self. A lot of the volunteers were there to give back for the help the house had provided them in the past. They reminded us to stay positive, enjoy every day, and that there really is light at the end of the tunnel ( no matter how long that tunnel might seem).
The house is truly built on the love and support of those who have needed it in the past. Words can't express our gratitude for everyone involved in this organization. Your selfless acts and family-oriented atmosphere make families feel welcome, able to enjoy a hot meal, and rest their tired heads and hearts. We spent 8 weeks by Carter's side until we had to go back to work. Leaving the state and being away from your child is the most heartbreaking feeling but knowing we would always have a place to stay helped lessen the blow. Thanks to the love and support of our family Carter was never alone and had a visitor every night and the Ronald McDonald House welcomed us back every weekend to be by our son's side. This was our routine for the remaining 3 and a half months he was there. Saying thank you simply isn't enough but we truly are forever grateful for everything that the Ronald McDonald house represents. We have been home now for about two months and couldn't be happier. To the Ronald McDonald House, thank you for being there for us so we could be there for our son.