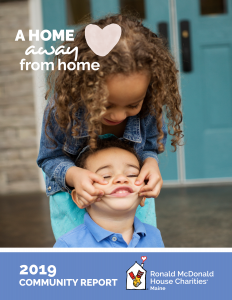 All this made possible when
our community comes together!
  555 families                  6,125 nights              350+ volunteers
As we set out at the start of 2019, we had one goal in mind: expanding our impact. Now, as we reflect on all that 2019 had in store, we feel our mission was accomplished (much thanks to you)!
In May, we hosted our first-ever Purses with Purpose fundraiser in Bangor. Just a few weeks later, we held a groundbreaking ceremony marking the beginning of our 15-room expansion of our Portland Ronald McDonald House. That same day, we launched our $2.8 million Building Community, Expanding Hope campaign to support our programs and services. Throughout the year, we worked behind the scenes to welcome a Ronald McDonald Family Room® to Northern Light Eastern Maine Medical Center in 2020.
Most importantly, we continued to support families of pediatric patients. We met hundreds of families who changed our lives as we changed theirs. In addition, we welcomed handfuls of volunteers to the RMHC Maine family who spread compassion to every inch of our Houses. Businesses stepped forward, Guest Chefs whipped up tasty meals, and advocates encouraged us. Thank you to all the hearts that make us home.
We've been providing decades of comfort, care, and compassion!